Designing for Print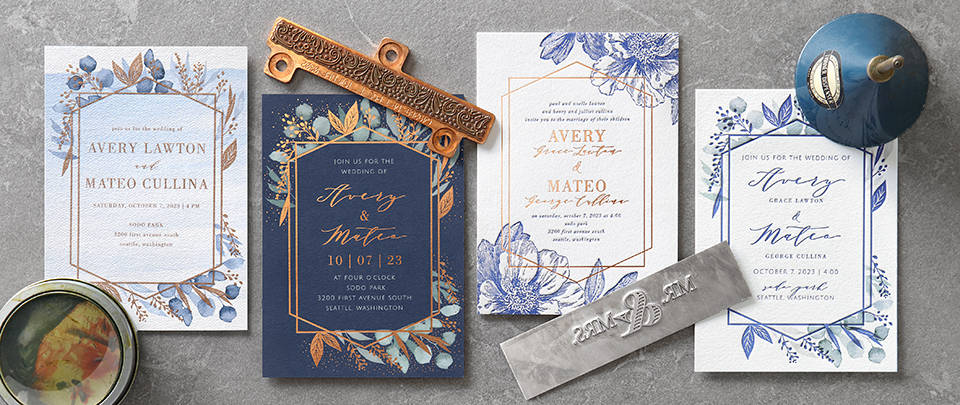 Whether you're designing wedding invitations, greeting cards or business flyers, learning a few specifics about how to design for print will help you achieve consistent print quality. The print design tips below cover a range of details from basic design concepts to print-specific advice from our team of in-house designers. On top of that, we offer low minimums so you can print your own tests sheets, color swatches and sample fonts to ensure you know what you and your clients can expect for each print process and pairing we offer.
Tips for Achieving Consistent Print Quality
Small Font Sizes
Extra small text may cause registration and quality issues. As many of you probably know, different fonts can appear drastically different even at the same point size. Since we are an Upload-Your-Artwork print service, we don't limit the fonts you can use, which means we can't curate a list of fonts and provide guidelines for font sizes. Print design best practices would state anything under 6 pt. is not readable but "readable" is also dependent on the font. Certain script fonts at 8 pt. might be unreadable while certain block fonts at 6 pt. will be perfectly readable. Please be mindful of this while designing.
Fine Lines
Fine lines of less than 1 pt. thickness are not recommended for letterpress and foil stamped artwork in order to maintain quality consistency. You may choose to experiment with fine lines of less than 1 pt., but we cannot guarantee the results and may not cover the cost of a reprint.
Heavy Coverage
Heavy ink coverage is not advised on thermography or letterpress items. Heavy foil coverage is not advised on foil stamped napkins. Most designs submitted print well but please do not attempt to fill large spaces or "flood" an area with thermography ink, foil or letterpress ink. These print processes are not suitable for this. Our foil and thermography press operators define "heavy" coverage as anything greater than one square inch. Thermography borders more than 1/4" wide can also be problematic for maintaining consistency.
Press Tolerance
Be aware that letterpress and foil stamping are handcrafted print processes with a 1/16" tolerance, which means movement of 1/16" may occur from piece to piece. We recommend designing with a 1/8" space between two ink colors for thermography and letterpress. We recommend 1/8" space between two foil colors as well. Designing for movement is the best way to ensure success! Check out our FAQs to see how you can order any of the above mentioned processes in two colors.
Printing Tighter Registration
Our press operators are highly skilled and capable of hitting tighter registration, depending on the design. However, since we don't have eyes on your design, we can't guarantee success. You may choose to experiment with registration tighter than 1/8" but we cannot guarantee the results and may not cover the cost of a reprint.
Border Artwork
Border artwork is probably the trickiest artwork to print and cut down accurately. We highly recommend reading our blog post, How to Produce Successful Border Artwork to help ensure the success of your piece.