Artwork Specifications and File Requirements
Looking for artwork specs? Need some help with our customization tool? This is the spot for you! The details listed here will help get your amazing artwork on paper using our custom print site. If you have a question that isn't answered here, check out FAQs or contact our Customer Care Team.
Download the Art Specs Grid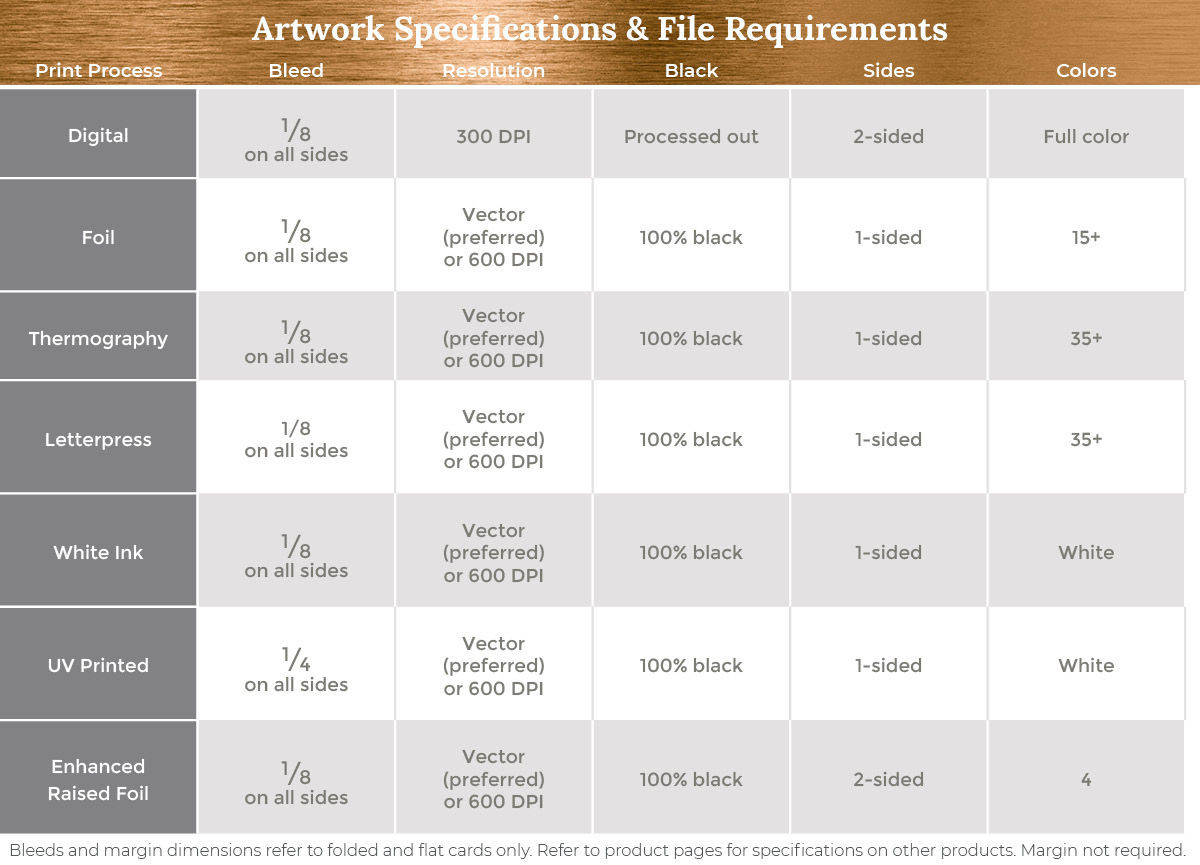 Two-Color and Two-Process Registration
We require at least 1/4" of space between two ink colors and/or print processes. Tighter registration is possible with a special quote and longer production time. Please contact our Customer Care Team.
File Requirements and Tips
Refer to our Product Templates to understand where the score, trim and perforation lines fall for each product. A complete guide of paper sizes can be viewed here .
Our customization tool can only accept files that are the correct dimensions. Please refer to the product details page to see the exact artwork size for each product and each print process.
When saving/exporting your file:
Choose the "high quality" option.
Name your file with letters and numbers only (no special characters).
Uncheck "preserve editing capabilities" (if using Adobe Photoshop or Illustrator).
Hide all non-art and template layers.
We accept print-ready PDFs only.
Variable Print Requirements
What is variable print? If you're not familiar with the term, variable print describes the process of printing different sets of data in one order. Usually this refers to envelope addressing where customers upload a list of guest addresses and those addresses are professionally printed on the envelopes. We offer variable print on A1 envelopes, A2 envelopes, A7 envelopes and Art Prints. We need a multipage PDF with the appropriate data to print your order. We put together this tutorial to help you get started.