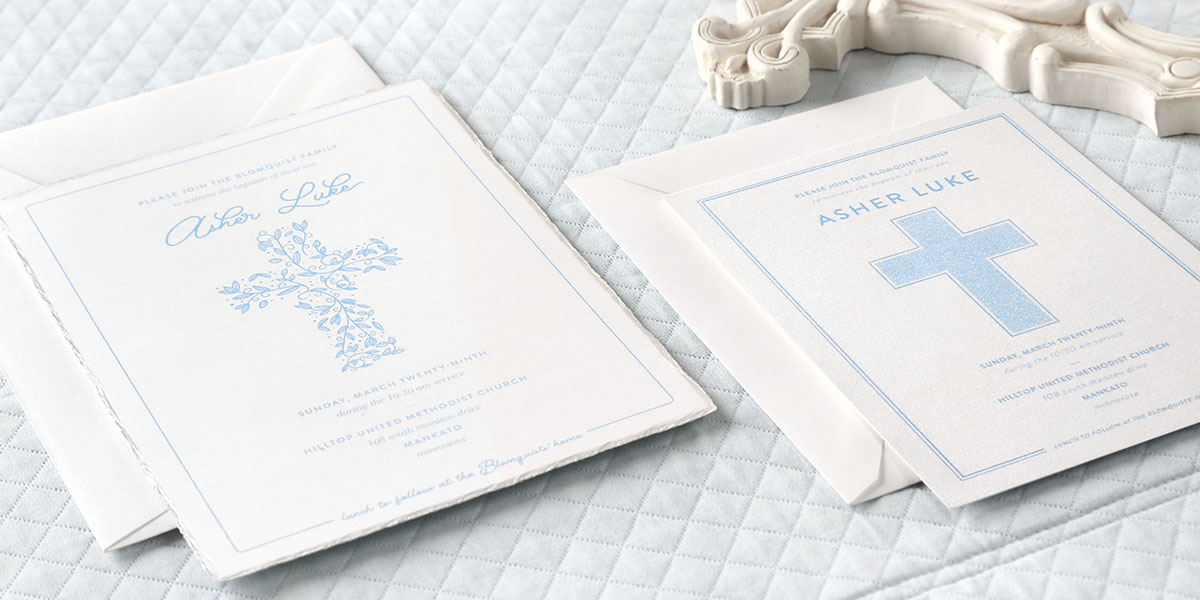 Our baby boy was born in September of 2019, and because we weren't in a hurry to make plans with a newborn over the winter, we waited to have him baptized until the end of March, 2020. Well, you all know how that turned out!
The reality right now is there are a lot of canceled plans in the next few months and possibly even longer. Mine is just a drop in the bucket across the country but I'd like to share the invitations we designed anyway because they feature my favorite custom print process, thermography.
There are 3 reasons I love custom thermography print!
1. It's cheap!
2. It has a very pretty, subtle sparkle.
3. It's raised off the paper, which adds texture.
Thermography is really quite impressive for how inexpensive it is. It's also known as raised print because resin is applied to the ink and treated with heat so it rises above the surface of the paper. Personally, I really like full coverage thermo. So I shared some thoughts with one of our designers and he created three concepts for me. I liked two of them so much we printed both just to show all of you!
The larger invitation is the one we sent to friends and family. It was just so pretty! I chose the 5½ x 7¾ specialty card on white with pearl deckle edge. You can see how the raised thermography print sparkles against the matte white card stock. (Check out Specialty stocks if you're curious. These pre-embellished luxury papers are meant to impress!)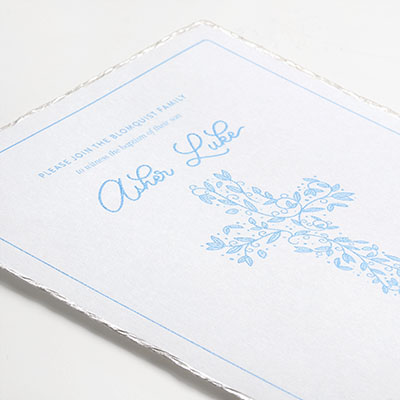 The smaller thermography cards are only $4 for 10 cards! That's a great deal in price and low minimum quantity. This A2 invite features a full-coverage thermography cross design. I will say the shimmer paper takes away from the thermo's sparkle a bit. Lesson learned: matte paper is best for highlighting thermo's unique qualities.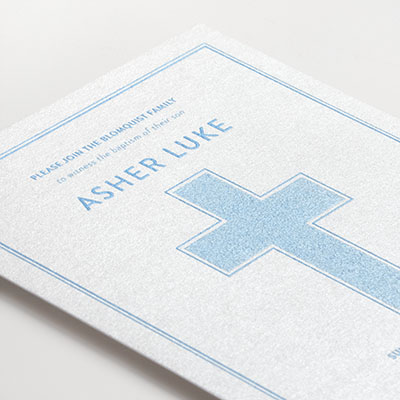 You can learn more about our custom thermography print on the Our Print Processes page. You'll find more info about the presses and a short video to see it in action.
April 14, 2020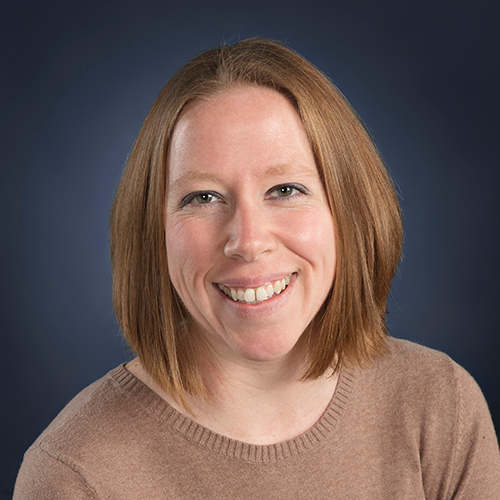 Title: Content Writer
Years at The Occasions Group: 13 years
Favorite Print Process: Thermography
Secretly I'm really good at… throwing games! Bag toss, ladder golf, skee ball. I won't be winning any championships but I can hold my own.