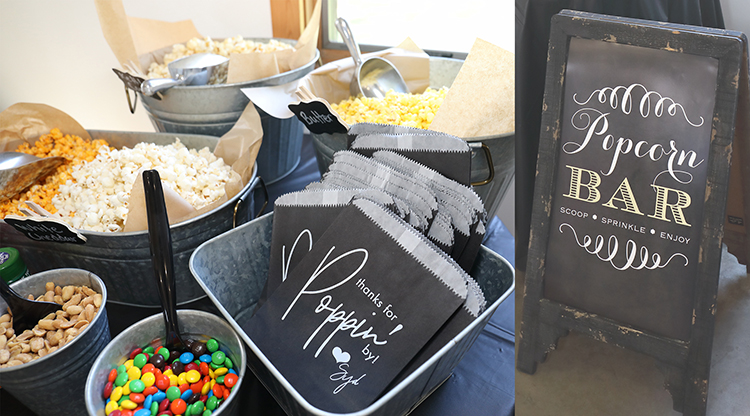 About a month ago, I came to you with the post, A Custom Graduation Suite Explained and we went through the parts and pieces I designed for my daughter's graduation announcements. Well, I can't believe it, but the graduation ceremony and party have come and gone!
After a year of planning, weeks of cleaning and plenty of yard work, we could finally get to decorating. We put picnic tables and high-top tables on the driveway under a tent and banquet tables all around the garage. My awesome setup crew (a.k.a. family and friends) and I were still adding the finishing touches as our first guest came right on time!
Sydney greeted guests at her guest book table. Her guest book was a large galvanized letter "S", which she can hang on her dorm wall this fall. We had designated jars for favorite memories or advice, a card bucket and some extra wallet-sized senior photos for guests to take. We also framed and displayed a few of her favorite senior pics.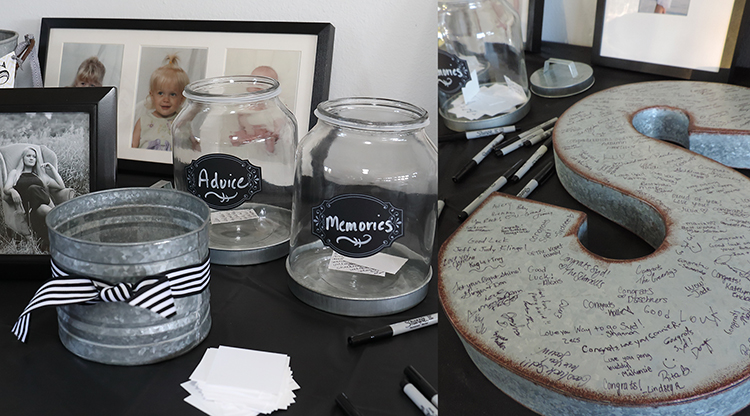 The prom table had simple 5×7 frames with her photos, garters, bow ties and corsages as well as photos of her "promposals."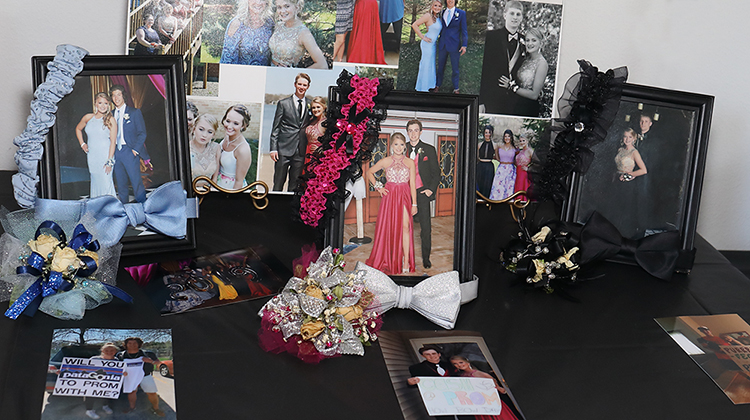 I created a "first days of school" board with K-12 first-day pics. I arranged the photos in InDesign and then printed it out as one large sheet for a cleaner look. I spray mounted that sheet on foam core, which I displayed on an easel.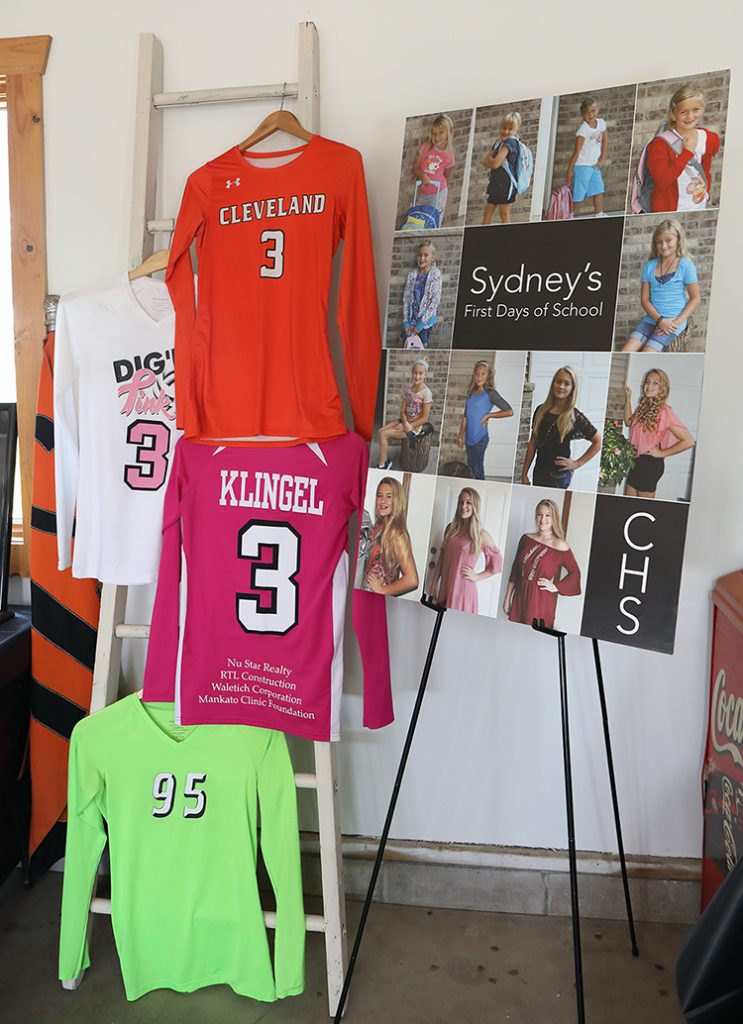 Sports are a big part of Syd's life so we created an awesome display. We used an old wooden ladder to hang a few volleyball jerseys on, which we placed next to a table with awards and memories. That same table had awards and photos from gymnastics and then a softball scrapbook and photos. Then we finished the table with her honor cords, diploma, grad cap as well as her acceptance letter to college and a college t-shirt.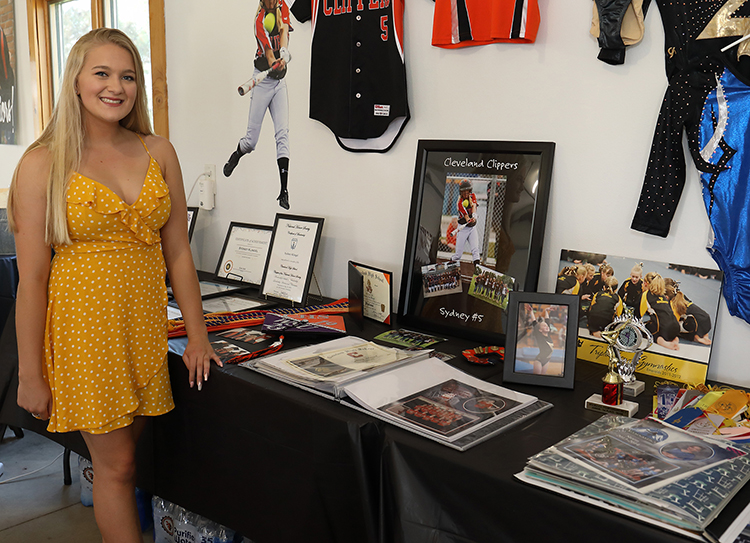 I wanted to add some height to the displays so we hung a few of her jerseys, gymnastics leotards, a jazz band jacket and orange splatter painted overalls (her go-to attire for games) around the garage adding some interest to the plain white walls.
Table decorations are a big deal at a party because they really add to the overall look and feel. We chose decorations that coordinated with her graduation announcements. We used black plastic table clothes and rolls of black and white striped wrapping paper to use as table runners. The centerpieces were mason jars painted in light yellow and black chalk paint, filled with baby's breath and wrapped in striped ribbon.
Syd's favorite snack is popcorn! We decided to do a popcorn bar favor table! We had galvanized containers loaded with kettle corn, butter, white cheddar or cheddar cheese popcorn. We set out peanuts, candy and four flavored powders. Guests grabbed what they wanted and scooped into black treat bags I designed and printed at TOG.ink!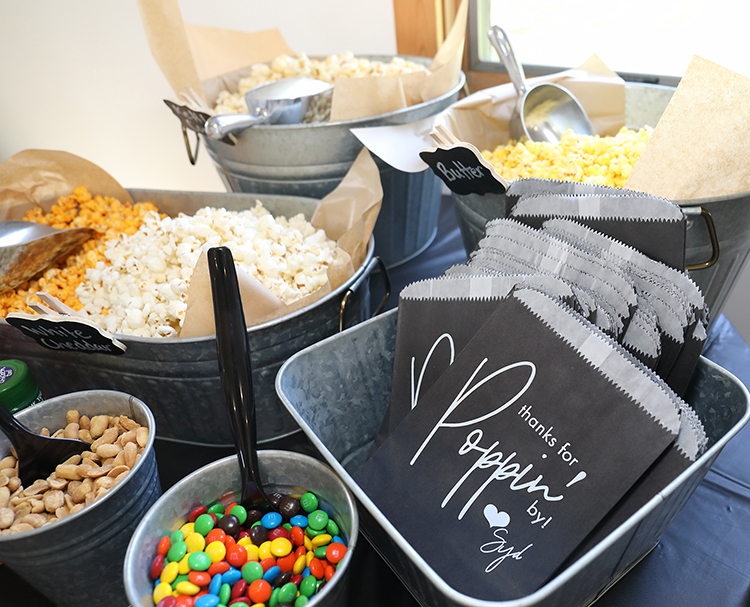 We did a pasta bar with breadsticks and salad for the food. What a hit with guests but a ton of work to pre-cook! The three roasters of pasta were tripping breakers so we used two roasters and two kerosene warmers. I had white napkins printed with Facts about Syd. I heard a few moms say they took their napkins home as an idea for future grad parties so just a tip to designers—custom print napkins are a great addition to any event stationery!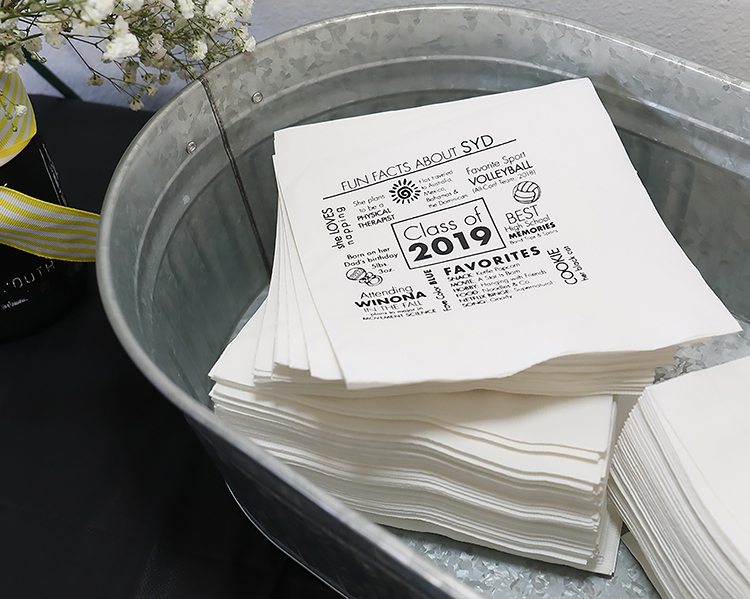 We had cupcakes galore for dessert! They were displayed on an antique ladder with barn wood boards running across as shelves. We had chocolate and white cake with frosting and sprinkles to coordinate. They were beautiful and delicious, but I ordered way too many so friends went home with a to-go tray of happiness.
Some extra touches to consider:
• Syd made a garland out of torn fabric strips that coordinated with her school colors.
• I printed and cut out a "Congrats" banner and we hung a Congrats pennant for above the main display table.
• We used chalkboard easel stands for the entrance and the popcorn bar.
• We had a bucket of bug spray/sunscreen hanging from a shepherd's hook in the yard.
• We hung lights on the inside of the garage so in the evening it was lit up.
• We had bean bag games in the yard for guests to play.
• We sprinkled chocolates around the table centerpieces.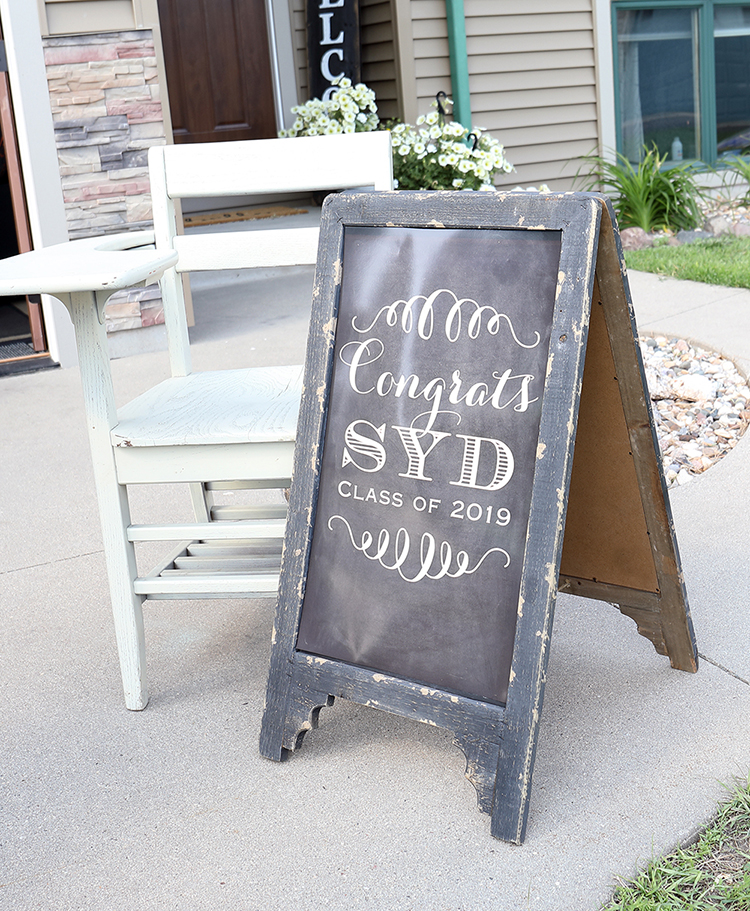 What I learned…
The most important thing I learned is that you WILL need helpers. I was able to visit with my guests because I had four friends and family members helping with food, lemonade and cleaning up throughout the party. It meant a ton to see old friends, neighbors, classmates, coaches and teachers. I really appreciated those who came and I'm not going to lie, I had a few tears at some of the faces that walked up the driveway that I hadn't seen for a while.
I'll get to do this all again next year…so check back for another over-the-top, super cute party!
June 14, 2019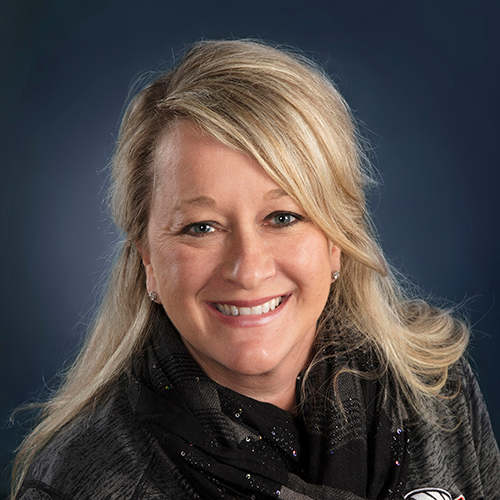 Title: Senior Designer
Years at The Occasions Group: 25 years
Favorite Print Process: Foil
Secretly I'm really good at… lip-syncing 80s hair band music.