We're Passionate about Print
The kind of passion that thinks big but loves little details.
We have perfected traditional to modern print processes to create beautiful, on-trend stationery products for partners of all sizes. Now you can take advantage of our wide range of print capabilities and create your own signature designs with expert print.
Read on to learn more about our print processes and let knowledge fuel your creativity.
Digital Printing
When digital print technology emerged in the market, it rocked the print industry and its full-color capabilities opened up an entirely new world of opportunity for designers. Today, digital print is everywhere but using our state-of-the-art presses means your digital artwork will print better than the rest.
Watch us create a digital full color invitation!
Most often used for:
Everything! Digital is extremely versatile and opens up lots of possibilities for today's stationery designers.
Our presses:
HP Indigo Digital Presses are widely regarded as the best in the industry for high resolution, full-color printing. Guess what we have? A whole fleet of them!
Pairs well with:
Foil stamping, which is offered by many of our competitors but unlike our competitors, we offer other print pairings like digital + letterpress and digital + thermography.
Foil Stamping
The gem of all printing processes, foil stamping adds star quality to ordinary products! The process includes a heated die stamped onto foil, which adheres to the surface of the paper and leaves the design of the die behind. You can create custom foil designs or choose from our collection of stock foil designs.
Watch us print a foil stamped invitation!
Most often used for:
Holiday cards, wedding invitation suites, baby announcements and graduation announcements.
Our presses:
Most of our foil stationery is printed on original Heidelberg presses, some of which date back more than a century!
Pairs well with:
Digital or die cutting.
Enhanced Raised Foil
Enhanced Raised Foil is a specialty print process referred to as Scodix in the print industry. Scodix is a secondary print process, which adds raised foil to the printing. Unlike its more traditional counterpart, Foil Stamping, Enhanced Raised Foil can be featured on one or both sides of the printed piece!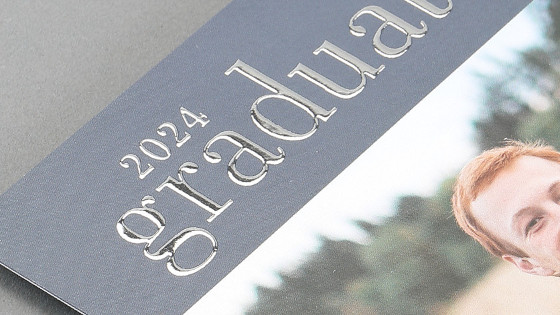 Most often used for:
Everything! Scodix can be used on any length of print run for an affordable price. This means foil is no longer reserved for high-end stationery or once-in-a-lifetime events. It's perfect for all print products from baby announcements to business brochures.
Our presses:
The Scodix Foil system is a three-step UV-based process. The raised effect is created by a liquid polymer, which is applied and partially cured with UV lights. Then foil is applied and cured under a second set of UV lights. The result is a luminous look and tactile experience.
Pairs well with:
Digital.
Letterpress
Letterpress printing is really, really old - but in a good way! Letterpress pieces begin as digital designs, which are sent to film as a negative and then exposed to a plate. The plate is then pressed to individual sheets of paper. A heavily impressed image on thick paper leaves the design and wording crisp and sharp. We offer 1- and 2-color letterpress.
Watch us create a letterpress invitation!
Most often used for:
Formal invitations for special events like weddings or corporate fundraisers. Also a popular choice for personal stationery.
Our presses:
Heidelberg presses are very old machines but they are legendary in the print industry for their strength, accuracy and ease of operation. Fine stationery printers still use these presses due to the distinct beauty and character they produce.
Pairs well with:
Digital or foil stamping.
Printing on Clear Stocks
Printing on acrylic and vinyl (acrylic's far more affordable counterpart) requires a very special print process called UV Printing, a form of digital printing that uses ultra-violet lights to dry or cure ink as it is printed. UV cured inks are weather-resistant and offer increased resistance to fading. The curing process is also more environmentally friendly because it produces very few VOCs (volatile organic compounds).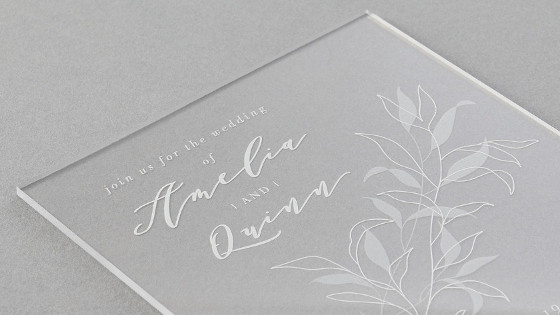 Most often used for:
Formal event invitations (weddings and galas). Also used for indoor/outdoor signage.
Our presses:
Our large-scale UV printers are actually flat-bed presses, which print directly onto acrylic and vinyl. These presses are capable of both short- and long-run capabilities.
Pairs well with:
UV Printing is not currently available paired with other print processes.
Thermography
Classic and affordable. When a piece of stationery is printed, resin is sprinkled on the wet ink and exposed to heat. The resin and ink fuse together, raising the lettering in an effect that's similar to engraving for a fraction of the cost. We offer 1- and 2-color thermography.
Watch us create a thermography invitation!
Most often used for:
Wedding invitations, although thermography looks quite nice on personal stationery too.
Our presses:
Thermography is printed on offset printers, which require a beautiful balance of manual and automated tasks to achieve the signature look and feel of thermography printing.
Pairs well with:
Digital or foil stamping.
White Ink Printing
White Ink Printing uses white toner instead of your run-of-the-mill white ink. White Toner Printing technology has taken years to develop, but now designers like you can get the vibrant white print you crave at the quantities your business needs.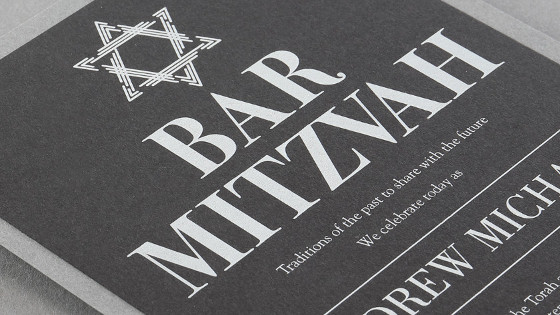 Most often used for:
Social stationery such as wedding invitations, shower invitations, personal stationery, holiday cards and greeting cards.
Our presses:
Our state-of-the-art presses use White Toner Printing technology to make bright, highly saturated white possible on our carefully chosen collection of richly colored papers.
Pairs well with:
White Ink is not currently available paired with other print processes.
Die Cutting
Die cutting is a simple process but the end result gets attention! A steel blade is used to punch out unique shapes, cuts and frames. Die cutting often accentuates certain design elements and adds a certain wow factor. You can choose from four die cut shapes for many of our products.
Watch us create a die cut baby announcement!
Most often used for:
Wedding invitation suites, holiday cards, baby announcements and graduation announcements.
Our presses:
We use traditional windmill presses to die cut flat cards one at a time but for more popular cuts and sizes, we use rotary drum die cutters.
Pairs well with:
Digital
Laser Cutting
Laser cutting involves using a focused beam of light to cut beautifully intricate designs into paper. The laser's precise movements are controlled by a computer, which results in stunning and flawless design. Designing laser cut stationery is complicated, so we offer a collection of stock laser cut designs. If you want to design from scratch, we ask that you submit a custom quote request.
Watch us create a laser cut invitation!
Most often used for:
Formal event invitations and holiday cards.
Our presses:
Laser cutting is far more elaborate than any other print process. We run high-tech presses with laser beams that reposition 100 times per second, which allows the lasers to cut fine details at a high rate of speed.
Pairs well with:
Digital